I've been itching to interview artists and makers i admire for the blog for a while now so i'm very pleased to have finally got round to doing it and getting such an brilliant artist for my 1st interview. So here is the first of many. Hope you enjoy
.
1. Please tell us your name, business name & where you are based.
My name is Kate Larsen, my business is called 'Box of Birds'. I am based just outside London in Kent, UK.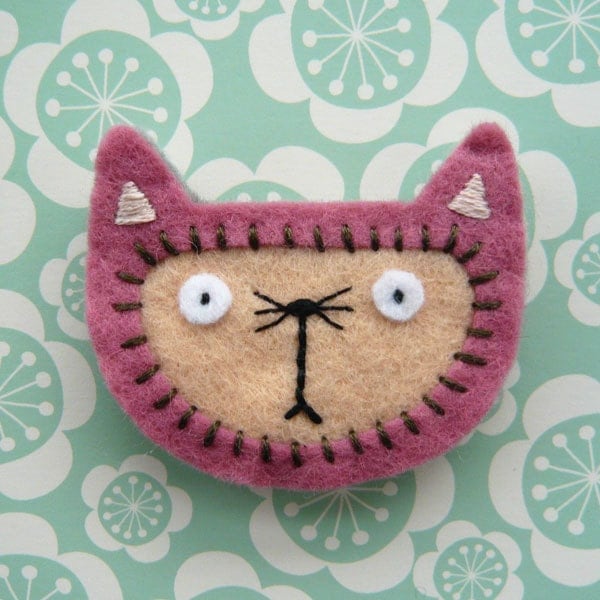 2. What do you create and how would you describe your style?
I work as a freelance graphic designer and illustrator. For the graphic design side of my business, I work mainly on packaging design for cosmetics and toiletries. My illustration projects are commissioned for various different uses: magazines, cards, retail etc. I also have a small shop selling prints, cards and accessories. I would describe my style as simple, fun, bright and a little bit odd sometimes.














3. How did
you get into making and do you make a living out of your creations?
I enjoyed drawing, making and designing from a young age and was always encouraged to be creative, I even had sewing classes at school. I studied art and design at school and foundation level, then did a degree in graphic design. I worked for a design agency for three years after graduating, before setting up Box of Birds. I don't make a living from the things I sell in my shop, but hopefully one day I will! They have however lead to commissions and the work I do for myself helps to keep my illustration portfolio fresh.
4. What is your favourite piece of work or a favourite project you've worked on?
I designed some wallpapers for Graham and Brown a few years ago which was fantastic. Recently, I worked on some illustrations and the logo for a dog groomers in London called Victoria Bark. I'm a major dog fan and own a whippet, so this was great for me. My favourite item in my shop at the moment is the wooden fox necklaces.
5. If you could achieve any business goal with your work no matter how fantastical what would you most like to do?
To build Box of Birds into a well known home accessories brand.
6. Do you have any tips for others who want to set up a creative crafty business?
Have a very clear idea about what your business is, in terms of its style and what it sells. I think this is important for customers so they know exactly whe
re you are coming from. Do lots of research on what's out there already and offer something different or better. Take great photos of your products: they'll make your online shop look better, get you featured on blogs and ultimately get you more sales. If you want to make money out of a craft business, be realistic about how much time you spend making something and cost of materials versus how much you can sell it for!


















Quick fire round.
Just for fun please pick 1 answer from each of the following. If you don't fancy either just choose the 1 you most prefer:
1. Bob Dillon or Johnny Cash
Bob Dillon
2. Harry Potter or Chronicles of Narnia
Chronicles of Narnia
3. For meat eaters - Lasagne or Moussaka
Lasagne
4. Knit or sew
Sew
5. Pen or pencil
Pencil
6. Cut or paste
Paste
7. Mug or Cup
Mug
8. Half full or half empty
Half full!
9. Mac or PC
Mac!
10. Amy Butler or Cath Kidston
Amy Butler
To find out more check out Kate's site
boxofbirds.co.uk
or
blog
.
You can also find her on
Etsy
,
Facebook
or Twitter on @boxofbirdstweet.